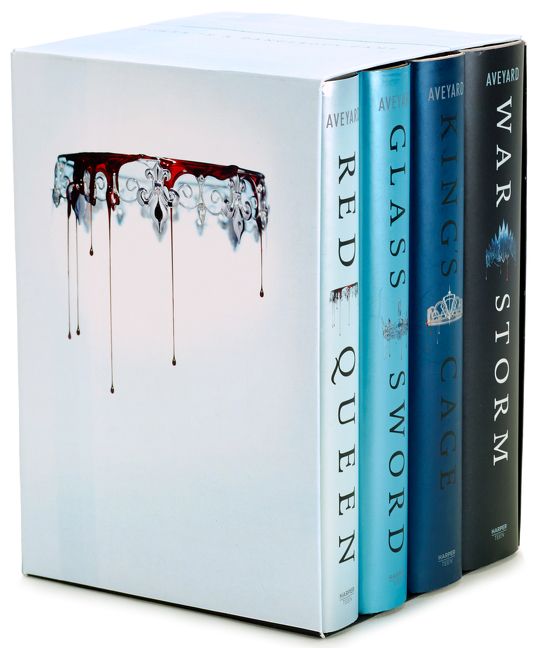 Názov: Red Queen series (Red Queen, Glass Sword, King's Cage, War Storm + Cruel Crown)
Autor: Victoria Aveyard
Rok vydania: 2015 (Red Queen); 2016 (Glass Sword, Cruel Crown); 2017 (King's Cage); 2018 (War Storm)
Počet strán: 400 (Red Queen); 464 (Glass Sword); 528 (King's Cage); 672 (War Storm); 208 (Cruel Crown)
---
Anotácia:
Red Queen
This is a world divided by blood - Red or Silver. The Reds are commoners, ruled by a Silver elite in possession of god-like superpowers. And to seventeen-year-old Mare, a Red girl from the poverty-stricken Stilts, it seems like nothing will ever changed. But Mare possesses a deadly power of her own. One that threatens to destroy the balance of power. Fearful of her potential, the Silvers hide Mare in plain view, declaring her a long-lost Silver princess. Knowing that one false move will mean her death, Mare must use her new position to bring down the regime - from the inside. Now Mare has entered a game of betrayal and lies. This is Reds against Silvers, prince against prince, and Mare against her own heart...
Glass Sword
Mare Barrow's blood is red, the colour of common folk, but her Silver ability - the power to control lightning - has turned her into a weapon that the Silver court will do anything to destroy. With no one left to trust, Mare sets out to find and recruit other Red-and-Silver fighters to join the uprising. But Mare is treading a deadly path. Will she shatter unter the weight of rebellion? Or have treachery and betrayal hardened her for ever?
Mare Barrow is a prisoner, powerless without her lightning, tormented by her mistakes. She lives at the mercy of a boy she once loved, a boy made of lies and betrayal. Now a king, Maven continues weaving his web in an attempt to maintain control over his country - and his prisoner. While Mare remains trapped in the palacem the remnants of the Red Rebellion continue organizing and expanding. As they prepare for warno longer able to linger in the shadows, Cal - the exiled prince with his own claim on Mare's heart - will stop at nothing to bring her back.
Victory comes at a price. Mare Barrow learned that all too well when Cal's betrayal nearly destroyed her. Now determined to protect her heart - and secure freedom for Reds and newbloods like her - Mare resolves to overthrow the kingdom of Norta once and for all... starting with the crown on Maven's head. But no battle is won alone, and before the Reds may rise as one, Mare must side with the boy who broke her heart in order to defeat the boy who almost broke her. Cal's powerful Silver allies, alongside Mare and the Scarlet Guard, prove a formidable force. But Maven is driven by an obsession so deep, he will stop at nothing to have Mare as his own again, even if it means demolishing everything - and everyone - in his path. War is coming, and all mare has fought for hangs in the balance. Will victory be enough to topple Silver Kingdoms? Or will the little lightning girl be forever silenced?
Cruel Crown
For Coriane of House Jacos, love comes at a terrible cost. In a secret diary, she recounts her heady courtship with the heir to the Silver throne, prince Tiberias, and the dangers that lurk at the heart of the royal court.
Captain Farley is at the forefront of the Red rebellion. As she plans an attack on the Silver capital, she discovers a secret that could sway the balance of power for ever.
Môj názor:
Zozačiatku sa mi to veľmi nepáčilo, ani nie tak pre tú zápletku samotnú, ale preto, lebo mi to hrozne pripomínalo Hunger Games, Divergenciu a Selekciu. Ale že strašne. Až som miestami rozmýšľala, či to mám dočítať, ak to naozaj bude rovnaké. Bolo tam delenie podľa farby krvi, delenie tých "Houses" (neviem, ako to preložili do slovenčiny, čítala som to v angličtine), potom prišlo hľadanie ľudí, ktorí boli takí, ako hlavná hrdinka (čiže "červená" krv, "strieborná" schopnosť), atď, atď... Neskôr to však nabralo taký inší spád, tak som nakoniec aj celkom rada, že som to dočítala. Záporák Maven bol skvelý! Fakt že, taký monstrous a twisted, úplne sa mi páčil. Mala som rada aj brata hlavnej hrdinky, Shade-a, takého brata by som strašne chcela aj ja. Veľké plus má u mňa autorka za ten koniec. Ten sa mi strašne páčil kvôli tomu, že bol svojím spôsobom otvorený. Zatiaľ všetky knihy, ktoré som čítala, jednoducho skončili - nejako - ale táto... Skončila, ale aj nie, bolo to také zvláštne, trochu nezvyk pre mňa. Autorka nám nechala priestor na fanfikcie :D Zároveň som rada, že aj romanca dopadla tak, ako dopadla, začínam byť mierne alergická na stereotypy :D
Čo sa týka knihy Cruel Crown, to bolo také doplnenie informácií ku knihám, dačo ako prequel, niektoré série to mávajú. Obsahuje dva príbehy, jeden patrí "striebornej", druhý "červenej" žene, čiže dve rôzne perspektívy. Až mi prišlo ľúto, že Coriane v originálnej sérii nebola viac, na druhej strane Farley tam bola požehnane.
Na záver asi toľko, že ak by ste sa ma spýtali, sériu by som vám odporučila za predpokladu, že trošku pretrpíte práve tú podobnosť prvých dvoch kníh s inými sériami (ak to tam teda pocítite, mne to tam nesmierne vadilo, hlavne za to som stiahla body v celkovom hodnotení nižšie).
Hodnotenie: 8/10